Shop
This book is a new groundbreaking work, with its goal being to protect overall health by prevention and reversal of horrendous diseases such as pre-diabetes, diabetes and CKD (chronic kidney disease).
Dr. T proves that unless the patient envisions and believes in their own healing power, they are helpless to put a stop to various diseases that are afflicting them. This book embraces a more spiritual dynamic emphasizing prevention and cure of disease through Dr. T's revolutionary methodology which utilizes joyful movement of the body married to an empowering spiritual conviction, called Dance to the Music of Your Soul.
Her cheerfully infectious mandate begins with the critical directive: "Get up, move, and love unconditionally … become SPIRITUALLY SEXY and have faith in 'with God in us all things become possible!" Color version $59.99 and black and white version $39.99 Buy on Amazon by following link:
https://www.amazon.com/Dance-Music-Your-Soul-Connection-ebook/dp/B07DNLZ4VH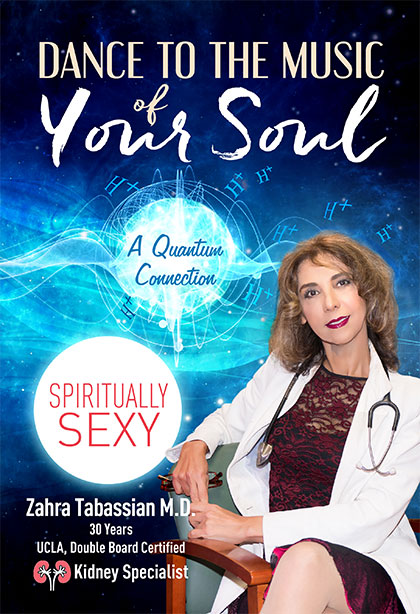 Dr. Tabassian's new book My Dance to Life. Coming Soon!